You don't really go to the MTV's Video Music Awards expecting much. Frankly, you shouldn't go to any awards show expecting much, but let's stay focused. The VMAs have generally promised little more than some onscreen mayhem and in-audience drama, and that's the way MTV likes it. It allows the aging dinosaur to get back to their brand in a mass market friendly way because MTV — by virtue of its name, if not always its programming — has always been about music videos.
2016 saw music videos roaring back to life in a way that probably made MTV execs dizzy with glee, so the VMAs had a chance to justify their own existence. Did they succeed? Well…
Winner: Beyoncé
Let's just say it. The night's winner was Beyoncé, and it wasn't even close. Other performances were fine — some were even good — but none came close to touching the power and conviction of the world's most famous living person. From the Serena Williams introduction to the Formation's choreography to the Bey's own vocals, there was not a single part of the production that didn't astonish.
Loser: Nick Jonas
There was never a reality in which the VMAs would launch Nick Jonas to a new stratosphere of pop genius. The best that could be hoped for is that the dude wouldn't be embarrassingly forgettable but, alas, not even performing at NYC's Tick-Tock Diner could make a hopelessly unmelodious song sound like anything other than a half-baked Justin Bieber ripoff. I swear I am trying with all my might to remember one single thing about the song, and coming up totally blank.
Winner: Rihanna
The night was supposed to be dedicated to Rihanna, since she was the recipient of the "Video Vanguard Award" or whatever, meaning she had to play four (4!) performances. She covered the breadth and depth of her singles, from "Don't Stop the Music" to "Work," and some songs worked better than others. But the best was saved for last, when Rihanna took on a few of her ballads like "Diamonds" and "Love on the Brain," and her under-appreciated vocals had a chance to shine. It's saying something that Rihanna is just 6 months shy of 29, and she's already got a back catalog that would make Barbara Streisand jealous. And if that doesn't wow you than consider this: Rihanna makes Drake nervous.
Loser: Key & Peele
Whooooof. On paper, these two made sense. They're popular, funny and well-liked. But in practice, their whole bit boiled down to "social media, amirite?". Key and Peele are at their best when they're able to lampoon the disconnects between different cultures and the limitations of code switching. The VMAs didn't really give them the material for that, which meant they had to resort to jokes about Twitter. The only truly great moment was their appreciably gobsmacked expressions following the Beyoncé performance. Hey, speaking of…
Winner: Beyoncé
Let's revisit this, because it was just flames front to back. Beyoncé brought the Warsan Shires' poetry that gave Lemonade its feeling of bracing intimacy and the beats that made it instant bangers. Beyoncé has more charisma and magnetism in a single look than most pop stars have in their entire repertoire.
Loser: Kanye West
This is a qualified L, because Kanye's debut of his new video for "Fade" — starring Teyana Taylor in the sexiest workout video of all time — definitely commanded attention. But Kanye's speech, while contained and focused by his standards, suffered in comparison to everything else. He listed himself as an "artist and merchant" on the level of Steve Jobs and Harry Truman, which is typical Kanye stuff, but he backed it up by pointing to his placement of Donald Trump next to Anna Wintour in "Famous". Kanye's got several pieces of art that definitely suggest some level of defiant genius. The "Famous" video isn't one of them.
Winner: Britney
Again, this is qualified. A resurrected Tupac would have a hard time following Beyoncé, and putting Britney's comeback on the spot like this almost smacked of pettiness on MTV's part. What has Britney ever done to MTV besides stoke their relevance throughout the early '00s? All that being said, Britney did a great job. Her dancing was on point, she sounded like Britney (no mean feat!), and she overcame the wild gyrations of rabid fan and self-styled "rapper" G-Eazy to deliver a solid performance. It wasn't a staggering enough redemption story to win over the haters, but it was much better than her last VMA showing. Let's call it a win.
Loser: Jimmy Fallon
We were all Michael Phelps at the initial promise of Fallon taking the stage in Ryan Lochte cosplay, but the material itself just bellyflopped. Fallon's generally reliable goofball impersonation antics failed him with one-liners that felt like he scribbled them down on the limo ride over. Actually, Fallon, Key & Peel and Jay Pharaoh all felt like they'd come to collect a paycheck and little else. Only DJ Khaled and Nicole Byer felt really up to the task of providing fun commentary throughout.
Winner: Chance the Rapper
Blessings keep falling in his lap.

Winner: The US Olympics Gymnasts

Gabby Douglas wasn't feeling well and had to miss out on joining her teammates on stage to meet Beyoncé, but even Gabby is ultimately a winner because she is one of the greatest athletes in the world. And her teammates are also winners because they met Beyoncé. Get better soon, Gabby! Hope you get to meet Beyoncé. Hey, speaking of…
Winner: Beyoncé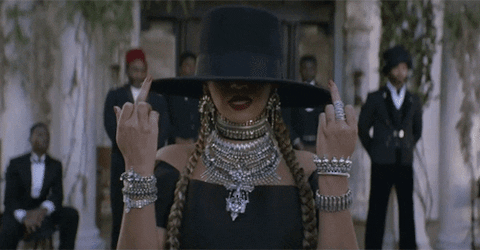 Did you guys see that Beyoncé performance or what?
Jason is the cofounder of the iconic non-profit Invisible Children which was founded to increase awareness of the horrendous activities of the LRA in Central Africa. Jason was also the director of the iconic Kony 2012 film that took the world by storm. In this two-part interview Jason and Branden talk about what it means to create a movement, what Jason experienced during his breakdown and subsequent recovery, and Jason's experience in the world of theater.
Aharon Rabinowitz is the head of marketing for Red Giant based in New York City. During our conversation, we discussed the importance of work life balance, his start as a production intern at Sesame Street and why artist's feel personally offended when you reject their work.
United gets their cheap on, fake news, and Trump hired who?
Welcome to Episode IV. This week, Dan spends some time with his favorite singer/songwriter, Matthew Perryman Jones. Matthew and Dan talk about panic attacks, growing up in Atlanta, the way music is informed by pain and suffering and the way music gives freedom.
If you have spent any time watching television in the last decade you have most likely heard one of Mattew's songs on shows like Grey's Anatomy, Pretty Little Liars, One Tree Hill and many others. His insightful writing and voice have drawn comparisons to Leonard Cohen and Jeff Buckley, and he is on the short list of songwriters who skillfully weave the deeply philosophical and the vivid utterly human without ever losing sight of either.
To get his new album Cold Answer, (which features the three songs from him you heard on this episode), visit MPJmusic.com.
Branden sits down with writer and speaker Tyler Huckabee days after Donald Trump was elected President of the United States to talk about empathy, justice, listening, and where we go from here.
Special Election Edition, President Trump to legalized weed and everything in between.
This week we reflect on the election and discuss our strategies for staying sane.
Luca and Ilenia are the founders of Illo, a studio based in Turin, Italy.  During our conversation, we discussed their self-driving video bot named Algo, how Illo was formed and how they've crafted a unique office culture.
This week we discuss Beyonce's night at the CMAs, last minute election plans and how SNL might save us all.
We appreciate everyone sticking with us through this long hiatus but are planning our return even as we speak, with a bunch of new goodies and an updated format. In the meantime, here's a brief primer on Marvel's Sorcerer Supreme, Doctor Strange — just so you can go into the movie knowing what you're getting yourself into.