All good things must come to an end is a true enough saying, but it applies to political conventions too, even though they are not entirely or even primarily good things. Still, they are things America, as a nation, must weather, and weather them we did, only a little worse for the wear. The spotlight was a little hotter in this unprecedented, supremely worrying election cycle, and both major political parties went about owning that spotlight in different — even unexpected — ways. Who did it better? Let's take a look.
Location
There's no disrespect intended for the good people of either Cleveland or Philadelphia here and both make good sense as political convention HQs. However, rumors surfaced early that Democrats bungled their Philadelphia location, hosting the convention at the Wells Fargo Center, a fair jaunt from downtown with few food or drink options for attendees. Conversely, the RNC hosted their convention right in the beating heart of Cleveland, and despite some early fretting, got through the week without any significant violence.
Advantage: RNC
Party Fracture
Both parties opened with a lot of Sturm, Drang and hurt feelings that seriously harshed the political chill. The Republicans wanted to look like they'd unified around an unlikely rogue. The Democrats wanted to look like everyone had accepted that Hillary Clinton was the obvious choice. Neither party was successful.
Chaos began early at the RNC, with the #NeverTrump crowd scrambling to free their delegates from voting for Trump. It was about as thrilling to watch as a complex political delegation can be, but it was all for naught. A large portion of the Republican Party was repulsed by Trump, but they were unable to provide any real alternatives.
That wasn't a problem faced by Democrats, a not insignificant number of whom came in pulling for a Bernie Sanders miracle. At the DNC, Sanders supporters took a less technical route towards making their voices heard, preferring to literally make their voices heard, booing and chanting at every opportune moment and more than a few inopportune one. While that dissent was never quelled entirely (at least a few of them continued to chant during the President's speech), the #NeverTrump crowd appeared to accept fate after the votes were tallied. For better or worse, the RNC crowd coalesced in a way that Democrat crowd never quite did.
Advantage: RNC
Star Power
For any political convention, the big draw is the big names political parties can wrangle to make a rosy case for their cause. The DNC enlisted the likes of Eva Longoria, Meryl Streep, Sarah Silverman, Alicia Keys, Lena Dunham and Katy Perry. The Republicans got Willie Robertson, Kid Rock and Scott Baio. The DNC also got Paul Simon, which must have looked like a win on paper.
Democrats often have an advantage here, having brought so many big Hollywood stars into the fold, but that's not what really matters here. What really matters here is that there's no excuse for inviting Scott Baio and the Dancing With the Stars guy. None. Beyond just being stars only by the most technical definition of the term, both engaged in some truly despicable actions as part of their gigs, with Baio retweeting a meme that called Hillary Clinton a "c***" and the Dancing With the Stars guy un-ironically returning to the whole "Obama is a secret Muslim" well. Even in this political climate, American politics should be above that.
Advantage: DNC
Speaker Lineup 
Stars bring in ratings, but what you really need are gifted speakers. The playing field is leveled a touch here because neither party's nominee is known for their oratory skill, so the weight fell on the shoulders of the other invitees to pick up the slack. The RNC speakers stumbled out of the gates here with Melania Trump's disastrous plagiarism scandal, but picked up some traction from the unlikeliest of sources: Trump's own children (more on them in a minute). Speaker of the House Paul Ryan delivered an even-tempered speech that was one of the few positive, upbeat moments of his party's convention, which was fortunate, because neither Ben Carson nor Chris Christie did their nominee any favors. The most memorable moment of the convention came from Ted Cruz — polished as ever — but, of course, the content of his speech infamously left something to be desired.
Over at the DNC, Michelle Obama gave a world class speech and Bernie Sanders did yeoman's work in attempting to pacify the revolution he himself started. President Barack Obama delivered one of the better speeches of his second term, and former President Bill Clinton believably humanized his wife, who has been perceived as too flinty and calculating to voters. But the standout moment of the conventions came from Khizr Khan, a Muslim father whose son was killed by a suicide bomber. He delivered a emotional, powerful tribute to his fallen son and a blistering, forceful rebuttal to Trump's nativist rhetoric. If no other speaker at the DNC had been competent, Khan's speech still would have locked this for the Democrats.
Advantage: DNC
Kids' Corner
When the RNC schedule dropped, eyebrows were raised that Trump's own progeny occupied not one, one two, but three speaking slots. That looked desperate at the time, but ended up being one of the savvier moves of the RNC. You might even say Trump's kids "saved the convention". Donald Jr. was a little flat and meandering, but Eric Trump delivered a concise, amiable statement of his father's competence and Tiffany Trump believably humanized him. But the highlight of the convention was Ivanka Trump, who has long been rumored to be her father's secret weapon, and may harbor her own political aspirations. She got the drop on a number of Democrat talking points with glitzy, vivacious charm. It all drove home a fact that even Trump's haters have a hard time denying: his kids seem to genuinely like the guy.
Chelsea Clinton has been in the political limelight for her entire life, and it's been a series of false starts, if you believe a certain narrative. Behind a podium, the younger Clinton's delivery bears a resemblance to that of her mother: poised and intelligent, but slightly stiff. Her anecdotes were pitch perfect (and the note about her grandmother was a particularly nice touch), but none of it was particularly surprising.
Politics aside, Ivanka and Chelsea are well-known friends who have a great deal in common. In all likelihood, the two roll their eyes and share chuckles about all this drama when the cameras aren't on them. But at the convention, they're competitors, and it's a competition Ivanka Trump one.
Advantage: RNC
American Flag Count
Under debate! A number of far-right websites and one formerly left, now reportedly right presidential nominee blew a gasket once rumors leaked that the Democratic National Convention stage had no American flags. That turned out to not be true, as the DNC had a digital background that featured an American flag backdrop throughout the course of the convention, just like the RNC did.
Advantage: Draw
Balloon Count
RNC:
DNC:
Advantage: Draw
Enjoying the Balloons
RNC:
DNC:
Advantage: DNC
Post Convention Bump
We won't know for sure until later. Much was initially made of a post-RNC CNN poll that showed Trump vaulting six points, but excitement cooled after no other polls found a similar surge. Time will tell.
Advantage: N/A
Overall Tone
It's been discussed at great length, so we won't overdo it here but, for the purposes of this article, it must be noted that Trump's Republican party has a grim vision of the future, with Trump as the last soldier between American exceptionalism and a complete terrorocracy. It's a decided flip from the Republican party of yore, which rallied Republicans around a positive, optimistic view of America. That messaging was co-opted almost wholesale by Democrats this year, who re-contextualized the message of American hope for a broad, inclusive audience.
Neither line quite holds up to reality. Trump's "Make America Great Again" line assumes a fairy tale of America's past that has no basis in reality, while the Democrats' "America is already great" line ignores the very real sense that there is a course in need of correcting. But for a vision of the future that can actually rally voters and inspire confidence in a party, the DNC had the safer bet.
Advantage: DNC
Ratings
We won't get a firm answer on Thursday night's ratings until later on Friday, but as of this writing, the DNC beat out the RNC for the first three nights in television ratings, although overall ratings were down from earlier conventions.
Advantage: DNC
Winner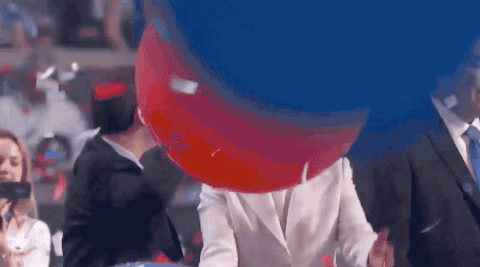 This contest isn't nearly as close as we've made it out to be here. The Democratic National Convention was a qualified success, but the Republican National Convention was a failure by almost any standard.
It didn't have to be this way. In the past, Republicans have proved themselves to be capable of the sort of showy, gushy extravaganzas that makes for entertaining political conventions. Mitt Romney's convention in 2012 had Democrats wringing their hands and, difficult as it is to believe now, Sarah Palin's 2008 address at the RNC is still remembered as a momentous achievement.
But the Republican Party sold out to Trump, and for all his vaunted television prowess, he couldn't muster the sort of show stopping pageantry needed to make a convincing case that he's anything other than what he's often accused of being: an impetuous fear-monger who sows mistrust of anyone who doesn't fall in line behind him. If the Republicans want to stand a chance in November, they're going to need a better message than what we saw in Cleveland. They're going to need take back the message the Democrats have cheerfully incorporated into their own campaign.